Click Here
To Sign in As
SAGE MEMBER
Click Here
To Sign up for a
Virtual Office
Click Here
To Book a
Meeting Room
Click here
to visit
Our Marketplace
Affordable Virtual Office
& Workspace Services
On-Demand Meeting & Training Rooms
Welcome to Sage Workspace
Sage Workspace is a NYC based firm offering innovative solutions for companies needing flexible office spaces and coworking spaces NYC locations. We offer convenient short term office rental NYC services and workspace solutions for companies seeking access to a temporary office space NYC location without the long term commitment. With our modern office solutions, your business can focus on increasing business productivity instead of on the rising costs of office space rent in New York City. Whether you are looking for the best virtual office space NYC offers or training rooms for rent, NYC businesses can find just what they need and more.
Prestigious Virtual Offices NYC Addresses
When it comes to getting a cheap virtual address, NYC addresses command the most attention. We can help you put your best face forward while saving on the costs of an actual office space for rent NYC location. Our virtual office services NYC companies can benefit from include a virtual business address NYC zip code that is fully verifiable. Your virtual office address NYC location will make it seem as though your company has a prestigious office located right in New York City. Avoid the long term commitment and added cost by taking advantage of our virtual office rental NYC service.
Sage Shared Workspace
Whether your company is a startup or an expanding enterprise, a shared office space NYC address may offer the perfect solution. Sage can provide the shared workspace NYC companies need at an affordable rate.
Look to Sage Workspace to provide the best conference room rental NYC has to offer as well as the best meeting room rental NYC service. We are proud to have the outstanding conference rooms for rent NYC businesses need at affordable rates. Give us a call at (212) 683-9100 to get started today. "
Prestigious Virtual Office & workspace

Sage Virtual Offices
Sage Virtual Office plans are a great solution for businesses in need of a Manhattan business address without long term commitment & financial risk. Sage VOP packages begin with a simple business address or upgrade to a package with mail handling, phone reception, access to meeting space and more.

Sage Workspace
Private, quiet work space near the Flatiron District is just a click away. Say goodbye to crowded, noisy coffee shops and find comfort and privacy in one of our private offices by the hour, day or longer. Regardless of task, be productive and comfortable, get reliable WiFi, power and the support services you need.

Virtual Office & Workspace on Fifth Avenue
Independent consultants, startups, entrepreneurs, small business owners, international businesses, legal, real estate & insurance professionals, graphic designers, software programmers, trainers, coaches…
"The companies we keep"
Affordable meeting & Training space on-demand

Sage Workspace by the Hour or Day
Read, write, think, prepare, talk, strategize, code, count… Head down, nose to the grind stone… Meditate, take a snooze…
"These are a few of our favorite things"

Sage Workspace
Consulting, training, coaching, advising, interviewing, ideating, meeting, presenting, translating, producing, developing, liaising, processing, programming, coding filming…
"These are some of our greatest -ings

Sage Meeting & Training Space
Quiet meeting space in NYC is a rare find. Finding it easily is a beautiful thing. Sage Workspace offers meeting rooms on demand, including WiFi and audio/visual services. We also provide a wide range of administrative support services to help you be more productive.
"The companies we keep"
Latest Blog Posts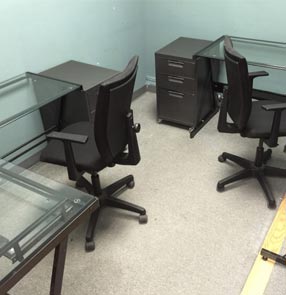 For anyone that travels for work, it can be quite frustrating trying to find a professional and private place to...
Read More
Testimonial
"Sage Workspace is a great provider of just in time offices in New York City. Conveniently located to multiple modes of transportation. Definitely consider them if you're looking for just in time office space in New York City."

"I've had a virtual office in Midtown for about three months now. The cost of working in Midtown is not worth it but having a nice sounding address has no doubt helped me increase traffic. I've been able to receive unlimited mail, use office space, and access my mail when I need it without any hassle yet. I'm pretty happy, considering how expensive everything else in Manhattan is!! Thanks guys!!! Thumbs up! 🙂 "

As a CPA, I made a thorough search of the larger companies offering office suites in NYC. A significant number of reviews were about the inept management, high cost, and various "hidden" charges that were not clearly spelled out in the agreement or not there at all. During personal meetings with leasing agents I found that advertised rates conveniently did not include other monthly fees that were for additional services which had to be taken. Upon walking into the Sage NYC office suites and meeting the owner/manager, Taps, I immediately knew that I had found the perfect situation. Not only are the offices located in a premium building with a 5th Avenue address, it provided everything needed for a professional setting. With the accessibility of the owner/manager on the premises, any issues that I have are dealt with immediately. And when I am not at the location, his responsiveness by phone or email is excellent. The rates are as reasonable and flexible as one could possibly ask for and our written agreement was simple but sufficient for both our needs. I can't recommend a better office leasing situation for anyone needing a NYC presence.

This was a perfect solution for us when expanding our offices to NYC. The manager has been a lifesaver on more than one occasion and we appreciate his business ethic and flexibility. We got a great value and excellent service and certainly expect to use the facilities again. Bang for buck, this is one of the best locations in the city.